The Draft EIS public comment period is now closed. We sincerely thank you for your input!
The Sound Transit Board identified preferred alternatives and other alternatives to study in a Draft Environmental Impact Statement, which was published on Jan. 28, 2022. The Draft EIS evaluated potential impacts and benefits of the alternatives on the natural and built environment and transportation system, and identified potential mitigation measures.
The formal public comment period for the Draft EIS for the West Seattle and Ballard Link Extensions (WSBLE) project closed on April 28, 2022. The Sound Transit Board is now reviewing comments from the public, agencies and Tribes - an integral step in the project that will help shape the future of light rail in Seattle.
After reviewing the Draft EIS and the comments from the public, agency partners and Tribes, the Sound Transit Board will confirm or modify the preferred alternative and station locations. This is expected to occur at the Sound Transit Board meeting in summer 2022. Responses to Draft EIS comments will be included in the Final EIS, scheduled to be published in 2023. The Sound Transit Board will then select the project to be built and the Federal Transit Admininstration (FTA) will release a Record of Decision.
About the project
The West Seattle and Ballard Link Extensions will provide fast, reliable light rail connections to dense residential and job centers throughout the region. In addition, a new downtown Seattle light rail tunnel will provide capacity for the entire regional system to operate efficiently. These two separate Link extensions are part of the regional transit system expansion approved by voters in November 2016.
New to the project and looking for more background? Visit the project overview to get up to speed.
We are studying multiple station alternatives in each neighborhood. Part of this study is understanding how stations will be accessed on foot, bicycle, bus, and other vehicles, as well as how stations will integrate with neighborhoods. We've partnered with the City of Seattle and communities to create some initial concepts for access, connectivity, and urban design. Click on a station below to view plans and cross-sections of the Draft EIS Station alternatives showing potential station entrances and connections for people walking, rolling, biking and taking transit.
What we have heard from the community
Sound Transit held a series of neighborhood forums as well as an online open house in fall 2019 and asked for input on the following:
What do you value about your community today?
How could a light rail station best serve your community?
What are key destinations in your community? Where do your daily activities take you?
How do you move around the area to these destinations?
In the future, when you get to the station, what is included at and near the station?
Check out the summary (24MB PDF) for more details on what we heard.
Station Planning Progress Report
Sound Transit, the City of Seattle, King County Metro, and other agency partners such as the Port of Seattle worked throughout 2020 and 2021 to evaluate the Draft EIS station alternatives and offer ideas and recommendations in response to the community priorities we have heard. This work is summarized and presented in a Station Planning Progress Report that we are publishing alongside the Draft EIS to further help communities understand the opportunities and challenges of the different alternatives. Check out the progress report for more details (links below)
View by station:
Choose a station to view maps and plans of the different station alternatives, including potential entrance locations, ways of accessing the stations and opportunities for development and public spaces around the stations.
Overview
Sound Transit has studied multiple light rail routes and station locations (called alternatives) and the public had an opportunity to provide input during the Draft EIS public comment period in early 2022.
In addition to the public comments Sound Transit received on the Draft EIS, the agency also formed Community Advisory Groups (CAGs) to provide another forum to share information and to collaborate with community members around issues and tradeoffs as we work to deliver this project on time and within scope. The feedback from these groups taken together with all the comments received from the public comment period will be provided to the Sound Transit Board before it confirms or modifies the preferred alternative for the WSBLE project.
In order to build the West Seattle and Ballard Link Extensions project, Sound Transit will need to purchase and use private property. In some cases, this means moving people from their homes or businesses.
Sound Transit's property acquisition process treats affected property owners and tenants fairly, provides appropriate Just Compensation and relocation benefits, and minimizes hardships with all parties involved. We realize that the possibility of being relocated from your home or business may be difficult and we are here to answer questions and provide support throughout the process.
Sound Transit has specific policies and procedures that describe how the agency will work with property owners and tenants throughout the acquisition process. We follow federal, state and local laws in our property acquisition process, more specifically, the Uniform Relocation Assistance and Real Property Acquisition Policies Act, as well as state law.
Property acquisition timeline
Fall 2021
Pre-Draft EIS release
Sound Transit

contacts potentially affected property owners
Early 2022
Draft EIS release
Draft EIS available for public review and comments
Sound Transit Board confirms or modifies the preferred alternative based on comments from the public, agency partners and Tribes
2023
Final EIS release
Sound Transit Board selects project to be built
2023-2027
Final Design
Sound Transit identifies property rights needed to construct, operate and maintain the system
Sound Transit Board authorizes property purchases
Sound Transit will prepare an appraisal to determine fair market value of property needed for the project
Sound Transit will provide relocation assistance to people and businesses displaced by the project, including referrals to comparable properties and payment of moving costs
Sound Transit staff are available to support property owners and tenants through this process
Without concrete decisions until the release of the Final EIS, we know this period of uncertainty can be stressful and are here to help. If you have additional questions or would like to set up a virtual meeting, contact our outreach team at wsblink@soundtransit.org or 206-903-7229.
Frequently Asked Questions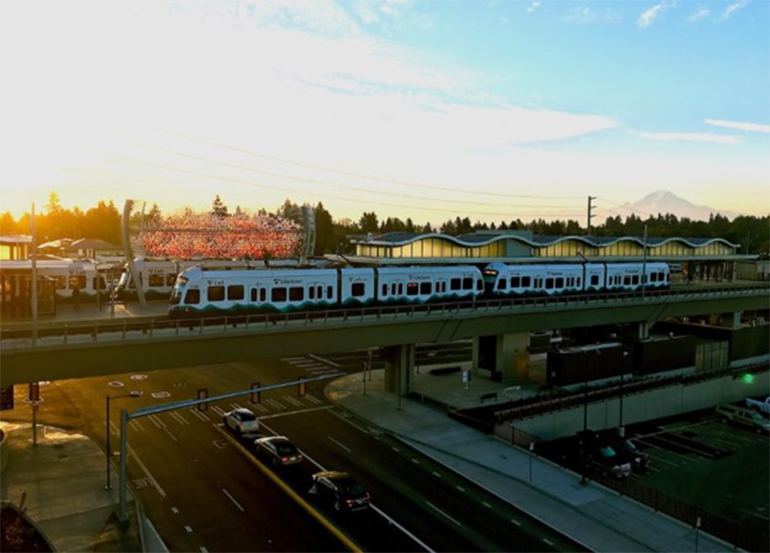 Need more info?
For more information about property acquisition and relocation, please refer to the following resources: